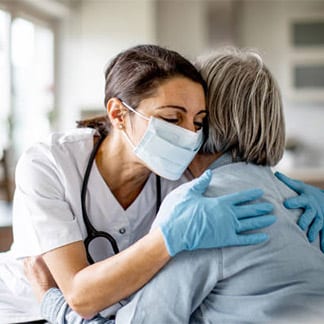 Pursuing value in long-term care starts today.  Prioritizing the improvement of care quality for its more than 6,000 beneficiaries, LTC ACO has joined forces with Third Eye Health, the leading virtual provider for post-acute and long-term care.
This newly formed partnership makes 24/7 physician access for LTC ACO beneficiaries a reality.
As the nation's first long-term care Medicare Shared Savings Program, LTC ACO's success requires an all-hands approach aligning providers, long-term care facilities and health systems to increase value by improving quality and reducing costs.  Partnering with Third Eye Health will have a profound impact on the value created by LTC ACO. With over half a million encounters, Third Eye Health successfully maintains a 90% treat in place rate by providing immediate virtual physician access during nights, after-hours, weekends, and holidays.
EHR integrations and the ability to communicate via video, text, and shared photos, makes thorough physician evaluations possible to when in-person physician visits are not available.  With Third Eye Health, LTC ACO beneficiaries can now be treated in place as soon as a change in condition is noticed, reducing their risk of complications or hospital acquired infections, and ultimately saving the cost of unnecessary readmissions.
An added benefit of this new union lies with skilled nursing facilities qualifying for LTC ACO partnership.  Once implemented with Third Eye Health, the facility's virtual physician accessibility will be available to all residents, not just the long-term care beneficiaries, and at no additional expense of adopting a telehealth program.
Both LTC ACO and Third Eye Health have admirable track records. In 2019, LTC ACO experienced a 19.6% cost savings rate with a 94.5% quality score resulting in Medicare fee-for-service savings and earning the ACO $18.8 million in shared savings distribution.  The expectation from the inclusion of Third Eye Health's physician services and telehealth technology is to drive the quality and healthcare efficiencies by keeping beneficiaries in place to receive care.
Ready to bring LTC ACO and Third Eye Health to your long-term care patients? Complete the form below, and a member of our team will be in touch.
Learn more about LTC ACO.
Visit Third Eye Health's homepage.
https://thirdeyehealth.net/wp-content/uploads/2021/07/blog-post-1.jpg
324
324
Ryan Kesner
/wp-content/uploads/2021/03/logo.png
Ryan Kesner
2021-07-06 09:00:31
2021-08-03 13:24:24
Pursuing Value in Long-Term Care