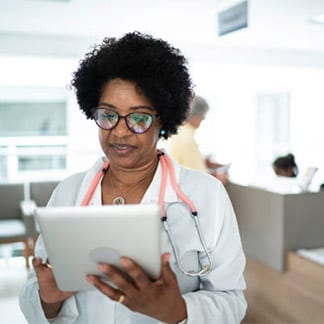 Third Eye Health is more than just telehealth, it is a comprehensive virtual care solution to improve the overall quality of care in post-acute and long-term settings.  LTC ACO acknowledged this when the two organizations announced their partnership earlier this year.  Comprised of secure, EHR-integrated mobile telehealth technology, Third Eye Health also boasts a large practice of over 75 experienced physicians nationwide.  These two elements, telehealth technology and physicians, are vital to successfully treating beneficiaries in place, but Third Eye Health provides one more essential component – care coordination.
The Difference
Every site with access to Third Eye Health telehealth technology and physician services receives a dedicated Care Coordination Manager, who is fundamental in providing warm hand-offs back to the primary care team following all Third Eye Health encounters.  Every day, Care Coordination Managers, who are nurses by trade, review the details of each consult for quality assurance, looking at notes and orders.  As the primary care team and providers are just beginning their days, they receive a secure, custom care summary from the Care Coordination Manager.
The Care Coordination team reviews all Third Eye Health physician encounters, serving as a second set of eyes and ensuring the proper treatment and care of each beneficiary.  They also recognize areas where protocols and procedures may need to be tightened up and work with post-acute and long-term care leadership to improve those procedures and enhance quality initiatives affecting care 24/7, not just when Third Eye Health is on call.
Much like physician access and telehealth technology, long-term care facilities qualifying for LTC ACO sponsorship will have the added benefit of Third Eye Health's care coordination services available to all residents, not just LTC ACO beneficiaries.  With these extensions of Third Eye Health in place, it is certain that outcomes will improve for all involved, while returns to the hospital and unnecessary readmissions will diminish.
To understand the full impact Third Eye Health and LTC ACO could have on your center, fill out the form below.  A member of our team will reach out.
https://thirdeyehealth.net/wp-content/uploads/2021/07/blog-post-3.jpg
324
324
Ryan Kesner
/wp-content/uploads/2021/03/logo.png
Ryan Kesner
2021-07-06 00:00:47
2021-09-29 13:44:50
LTC ACO Partnership is More than Telehealth